New Delhi: 
Karnataka will be voting today in a crucial set of by-elections that will test the Congress-JDS coalition in the state. Voting for three Lok Sabha and two assembly seats will be held today starting 7 am. Congress and JDS have fielded joint candidates in all the seats. The JDS will be contesting the Mandya and Shivamogga Lok Sabha seats and the Ramanagara assembly constituency and the Congress has put up candidates in the Lok Sabha seat in Ballari and assembly seat in Jamkhandi. The results for the five seats will be declared on November 6.
Here are the live updates of Karnataka By-Elections:
Polling booth at Jamkhandi ahead of voting for the Lok Sabha seat.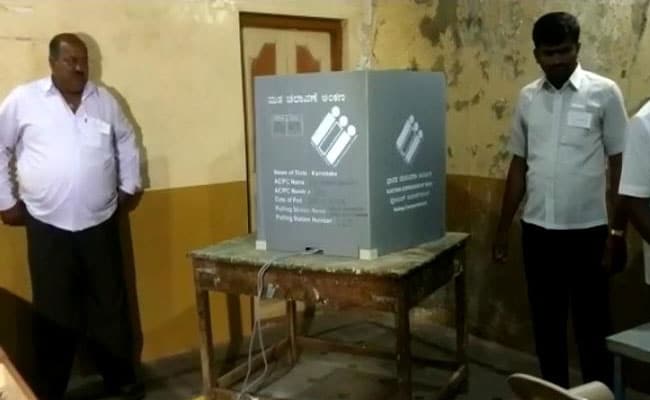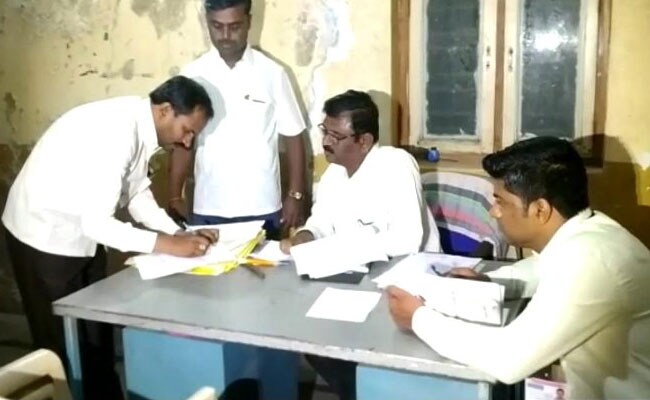 Officials at Bellary as voting begins. 
The seat in Ballari, reserved for Scheduled Tribes, fell vacant following the resignation of Mr Sreeramulu, who won from the Molakalmuru seat in Chitradurga district in the Assembly elections earlier this year.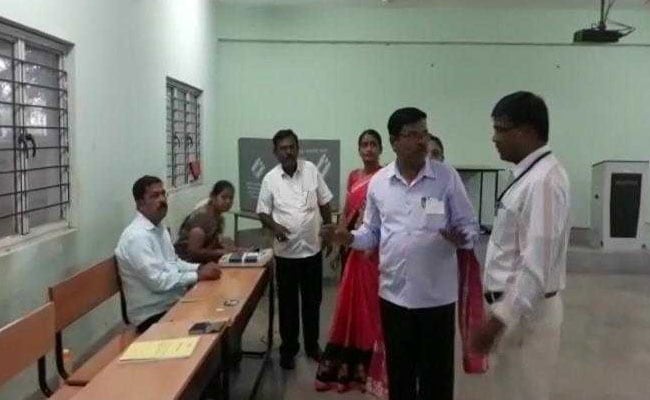 Three Lok Sabha and two assembly seats will be voting today in a crucial set of by-elections in the state. 
Ramanagara Assembly Polls:
Anitha Kumaraswamy, wife of Karnataka Chief Minister HD Kumaraswamy, has been given a virtual walkover as the BJP candidate L Chandrashekhar quite the party to join the Congress just two days before polling.
Shivamogga Lok Sabha Polls: 
BJP has fielded Mr Yeddyurappa's son BY Raghavendra, the JDS has nominated Madhu Bangarappa, the son of former chief minister S Bangarappa. JDU fielded Mahima Patel, son of former chief minister JH Patel.
Ballari Lok Sabha Polls: 
Shantha, the sister of BJP leader B Sreeramulu, is in the fray with her main opponent, VS Ugrappa of the Congress. 
Mandya Lok Sabha Polls:
JDS has fielded LR Shivarame Gowda, who will be up against BJP candidate Siddaramaiah, who is said to be a newcomer.
Jamkhandi Assembly Polls:
The Congress has fielded Anand Nyamagouda, son of senior leader Siddu Nyamagouda. He is up agianst BJP's Srikant Kulkarni.
Close to 6 months after the Congress-JDS alliance in Karnataka won the assembly elections in a high voltage drama battle between the BJP and JDS-Congress. 
The Congress, ended up with 78 seats in the Karnataka assembly elections, had teamed up with the rival JDS, to keep the BJP out of power. The BJP, had secured 104 seats in the state assembly, going on to be the single largest party in the assembly but was away from the majority mark of 111 seats. 
The bypolls today is to put to test, the Congress-JDS coalition government in the state.