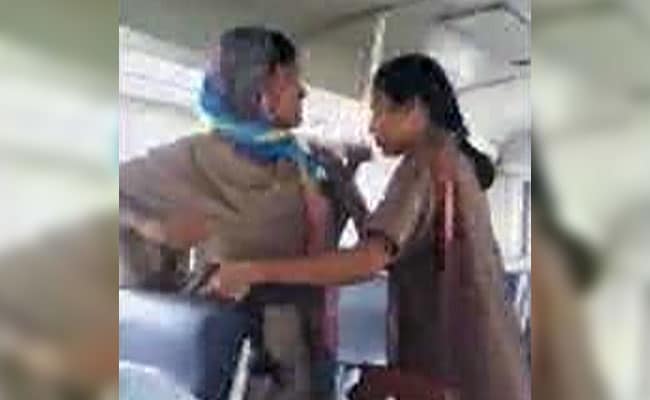 Hyderabad: 
A woman constable and a woman bus conductor came to blows in Telangana over Rs 15 – bus fare which the police woman had refused to pay. The state police have ordered an inquiry after a cellphone video of the exchange was widely circulated.
Constable Rajitha Kumari was on way to the police station in Nawabpet from Mahboobnagar, a distance of 23 km, when she was asked for fare by conductor Shobha Rani. But the constable, who was in uniform, refused, claiming she was on duty.
Shobha Rani refused to accept the constable's identity card. She pointed out that only a police officer who is serving a warrant is allowed to travel on a public bus without ticket.
There were sharp exchanges and Rajitha Kumari is heard saying on the video that a conductor should not question a police officer, especially when she is in uniform.
A fellow passenger who shot the exchange on his cellphone, tried to intervene, saying the conductor was just doing her job. The constable responded that she was also on duty.
Both women, in their uniforms, getting into a physical fight inside the bus has not amused their seniors. Shobha Rani went to Nawabpet police station, where Rajitha Kumari is posted, and lodged a complaint.
No formal FIR was however registered. Both women were given counselling and asked to come to a compromise.
District police chief B Anuradha, has, however, ordered an informal probe.
Refusal to pay toll taxes and bus fares has become part of the country's VIP culture. Over the last year, several such incidents have been reported from toll plazas across the country. CCTV footage from booths have often showed toll employees being beaten up.