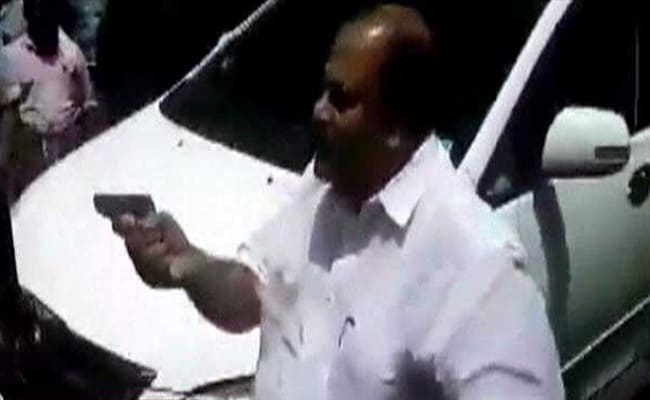 Kottayam: 
Senior Kerala legislator PC George today pulled out his gun and pointed it at an agitated mob which had surrounded him this afternoon in the Kottayam district.
The incident took place at a private estate area in Mundakayam where around 50 families, mostly daily wagers, have been living and reportedly seemed to have encroached on the estate land. 
The labour union at the estate and workers had tried to move them out, but got agitated when the seven-time legislator reached the spot and supported the families instead.
Visuals showed Mr George standing amid some people and waving the pistol when they shouted slogans at him.
"I have done nothing wrong. I am a licensed gun holder and I used it to protect the innocent," Mr George, who is not new to controversies, told NDTV. 
"The goons used abusive language against me, when I advised women staying in the shelters to throw diluted acid at the elements abusing them at nights. They (the goons) challenged me to take out the gun. I then displayed the Czech pistol I was carrying… just to convince them that I am carrying one. It is a licenced gun," he said.
The labour union at the Estate has alleged the Mr George used abusive language and threatened them because of which there was a heated argument between the workers and the legislator. The police say they have not received any complaint.
Mr George won as an independent in the assembly polls last year. He is currently the leader of a political outfit called the Kerala Janapaksham Party.
With inputs from Press Trust of India