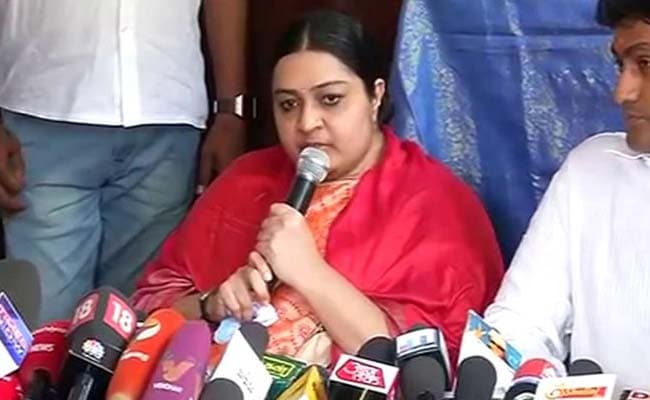 Chennai: 
Deepa Jayakumar, the niece of former chief minister J Jayalalithaa who has already made her political debut, has again slammed the ruling AIADMK's move to elevate
VK Sasikala
to the
post of the Tamil Nadu Chief Minister
. The 41-year-old, who resembles her aunt and had made a bid earlier for the former Chief Minister's political legacy, claiming that the party wants her and not Ms Sasikala. Two days after the AIADMK elected Ms Sasikala – who has never contested an election or held any office — the chief of its legislature party, paving the way for her leading the government, Ms Jayakumar warned of
political repercussions
.
"It is a very sad day for Tamil Nadu," Ms Jayakumar said at a media conference today. "She is not a person the people voted for… only a democratically elected leader should become the Chief Minister."
Ms Sasikala's not being an elected leader and her alleged involvement in a corruption case bars her from the highest office in the government, Ms Jayakumar said.  A lot of AIADMK supporters and cadres are unhappy with the choice, she said, adding that she would not hesitate to invite them to help her.
She said she would announce her future plans only on February 24, the birth anniversary of Jayalalithaa "as a tribute to my aunt".
A London-educated journalist, Ms Jayakumar had shot into the headlines after alleging that she had not been allowed to visit her aunt at Chennai's Apollo hospital. Later, she claimed that she had been banned from her funeral in December.
Reiterating her claims today – a day after doctors who treated Jayalalithaa shared details of her illness and treatment — Ms Jayakumar said she had not received any medical report on her aunt's health. "I think from the day I have been stopped at the (hospital) gates, I have been raising my voice against why I and media are not being allowed in," she added.