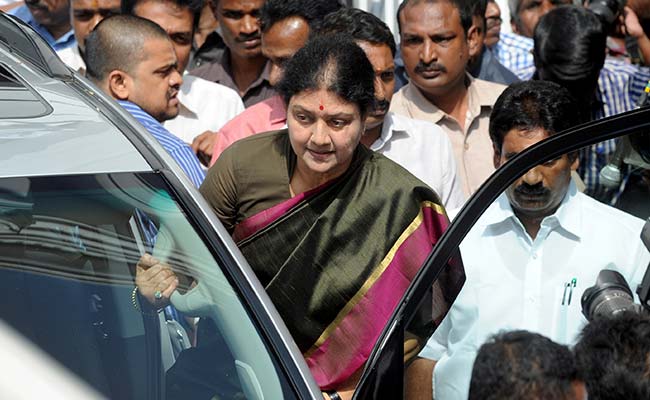 Chennai: 
A day after VK Sasikala went to jail for corruption, the man she handpicked has been invited to become Tamil Nadu's Chief Minister. Edapaddi Palaniswami has been asked to prove his majority within 15 days.
Sasikala's nephew TTV Dinakaran is involved in negotiations within Tamil Nadu's ruling party for a patch-up between the two factions that fought bitterly for the Chief Minister's post.
Mr Dinakaran, a controversial former lawmaker who was expelled from the AIADMK by J Jayalalithaa in 2011, returned to the party as its number two yesterday, just before Ms Sasikala left Chennai to serve her four-year prison term in Bengaluru.
The new Deputy General Secretary is reportedly involved in talks between the camps of Mr Palaniswami and the man he will replace – O Panneerselvam.
Mr Dinakaran, sources say, is pushing for mediation, possibly through Delhi.
Union Minister Venkaiah Naidu has reportedly been "advising" the AIADMK; senior leader M Thambidurai on Tuesday met Mr Naidu, who reportedly suggested that the AIADMK should unite and form a stable government, besides maintaining good ties with the centre.
The centre's cameo in the Tamil Nadu drama comes days after Mr Panneerselvam denied that he had the backing of the BJP in his revolt against Ms Sasikala.
After his rebellion, Mr Panneerselvam or OPS emerged as something of a hero for those opposed to Ms Sasikala's attempts at stepping into the role of her mentor J Jayalalithaa, who died in December. But he never had enough support.
He accused Ms Sasikala of keeping over 100 MLAs captive at the Golden Bay resort near Chennai to stop them joining him. But long after Ms Sasikala left for jail, OPS has no more than 11 lawmakers and a majority of the AIADMK lawmakers remain at the resort, backing Mr Palaniswami.
Mr Paneerselvam, who wanted to remain Chief Minister, is in no position to state terms but reconciliation for him may ensure an honourable "return". Mr Palaniswami has the numbers, but if there is a composite floor test – in which a special session is called to test support – it may need Mr Panneerselvam on its side.