Chennai: 
The Madras High Court has asked the Tamil Nadu government to decide where DMK patriarch will be laid to rest and will resume hearing at 8 am on whether his burial will be at Anna Square memorial along Chennai's Marina beach. The Tamil Nadu government had earlier on Tuesday evening rejected the request from rival DMK, triggering sharp criticism of its decision in Tamil Nadu and beyond. The DMK says the AIADMK's refusal to give six-feet land to bury the five-time chief minister next to his mentor CN Annadurai's grave "reeks of pettiness and political vendetta". Mr Karunanidhi died on Tuesday in Chennai. He was 94. In Karunanidhi's funeral, hundreds of supporters escorted the ambulance carrying his body to his house. Actor Rajinikanth and West Bengal Chief Minister Mamata Banerjee visited his house. The Tamil Nadu government has announced a seven-day mourning in his honour.
Here are the updates from Karunanidhi's funeral:
DMK's lawyer says, "There are 1 crore DMK followers in Tamil Nadu out of 7 crore population of the state. They'll be offended if burial land is not allotted for Karunanidhi at Marina beach," news agency ANI reported.
DMK's lawyer says burying Karunanidhi next to Gandhi Mandapam cannot be termed as a "decent burial".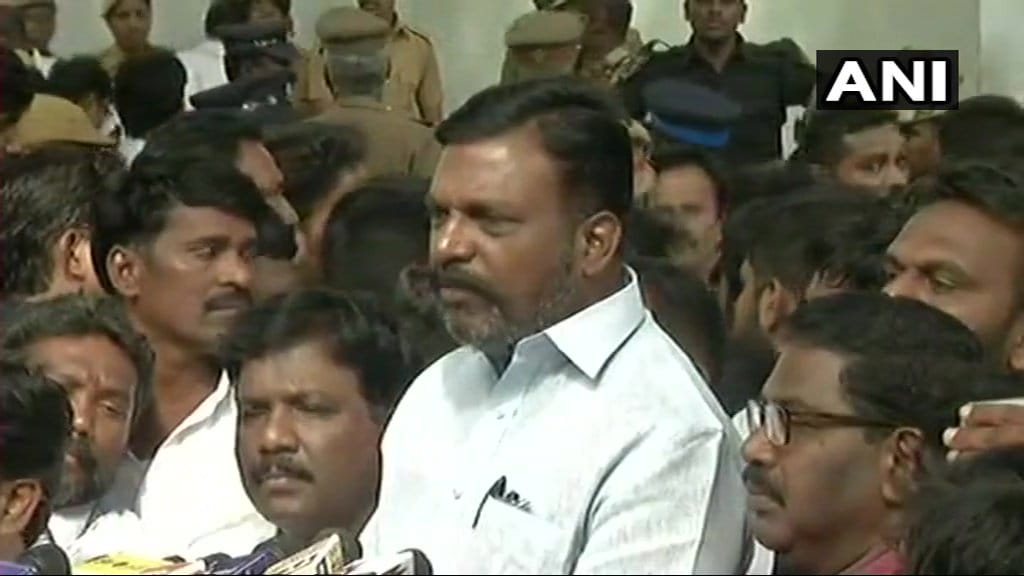 We demand that Bharat Ratna be conferred upon him. We also demand that his memorial be made near Anna Samadhi: VCK chief Thol Thirumavalavan
Deepa Jayakumar pays last respects to M Karunanidhi: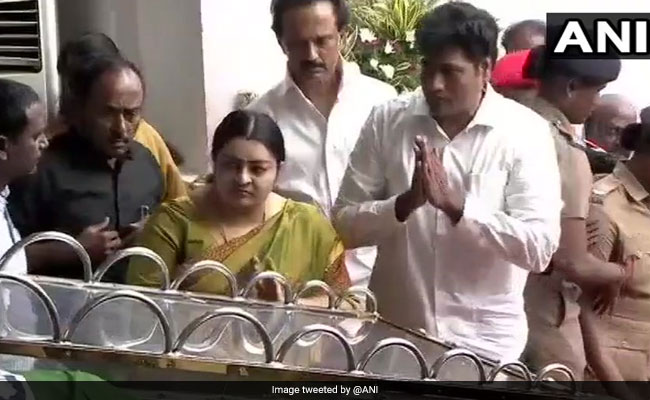 Court records contents of counter affidavit filed by state Government who tells Court, DMK can't challenge press release by Government expressing inability to allot space at Marina beach for Karunanidhi.
Tamil Nadu Government states in its counter affidavit that DMK chief Karunanidhi himself didn't allot land for former CM Janaki Ramachandran after understanding the protocol manual when Karunanidhi was the CM.
Madras High Court Acting Chief Justice records in his order, submissions made by DMK organising secretary RS Bharathi in his affidavit seeking burial land at Marina beach for Karunanidhi.
Case against denial of burial land by Tamil Nadu government at Marina beach for M Karunanidhi: Madras High Court dismisses petitions filed by Traffic Ramaswamy, K Balu and Duraisamy challenging construction of memorials at Marina beach.
Wrapped in tricolor, the mortal remains have been kept at the hall for the public to pay homage. Tamil Nadu Chief Minister Edappadi K. Palaniswami and Deputy Chief Minister O Panneerselvam visited Rajaji Hall to pay their respect to the DMK chief.
Rajinikanth and his family paid their last respects to Karunanidhi in Rajaji Hall.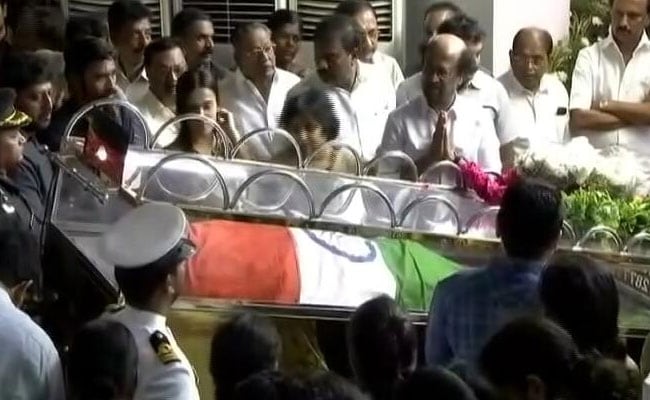 Various political leaders paid their last tributes to Karunanidhi. People from different walks of life –actors, industrialists and others — also paid homage to their departed leader, whose mortal remains have been kept at the Rajaji Hall.